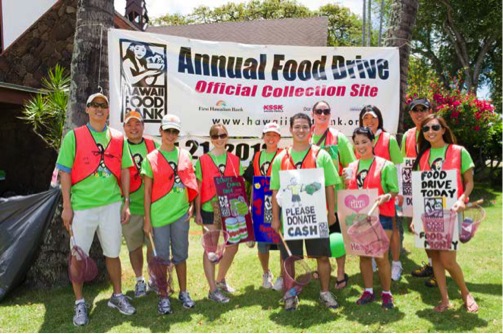 By Staff Reports
(Honolulu)- The Hawaii Foodbank and Food Drive sponsors First Hawaiian Bank, Hawaii News Now, KSSK and the Honolulu Star-Advertiser will be in communities across the state collecting dollars and food for the Hawaii Foodbank 24th Annual Food Drive. The goal: to raise One Million Meals to feed the hungry in Hawaii.
The Hawaii Foodbank and its network of 250 agencies helps feed 183,500 people statewide each year including 55,050 children and 11,010 seniors. In Hawaii, one in five children live in households that don't know where its next meal is coming from.
Please support a Food Drive collection site in your neighborhood on Saturday, April 20 by donating the Top Most Needed Foods: Canned meats, meals (spaghetti, beef stew, corned beef), soups, fruits and vegetables.
Monetary donations also provide food for the needy. Your $10 donation will help the Hawaii Foodbank distribute food for 25 meals.
Help Raise One Million Meals for the Hungry on Saturday, April 20
WHO: The Hawaii Foodbank
WHAT: The Hawaii Foodbank 24th Annual Food Drive
WHEN: Saturday, April 20
8:00 a.m.to 3:00 p.m. on Oahu
9:00 a.m. to 2:00 p.m. on Kauai
WHERE: Collection sites on Oahu, Kauai, the Big Island and Maui
Volunteers are still needed at all sites for Shift 2, 11:30 a.m. to 3:00 p.m. Please donate your time at a collection site near you by visiting www.hawaiifoodbank.org to download an application or email volunteer@hawaiifoodbank.org
Donation sites on Oahu and Kauai include: OAHU FOOD & MONETARY COLLECTION, 8:00a to 3:00p
Waterfront Plaza
KFC Hawaii
Koko Marina Center
Ewa Point
McCully Shopping Center
Kalihi
Nanakuli?
Kailua
Pearl City Shopping Center
Kapiolani
Pearl Highlands Center
Kapolei
Town Center of Mililani
Mililani
Waianae Mall Shopping Center
Moanalua
Waiokeola Congregational Church, Kahala
Waikele
Windward City Shopping Center
Westridge
KAUAI FOOD & MONETARY COLLECTION, 9:00a to 2:00p
Foodland – Market City Shopping Center
Big Save, Koloa & Waimea
Securitas – Alakawa St. & Dillingham Blvd., Kalihi
Foodland, Princeville
Kmart, Lihue
Safeway, Kapaa
OAHU FOOD ONLY
Walmart, Lihue
All military commissaries