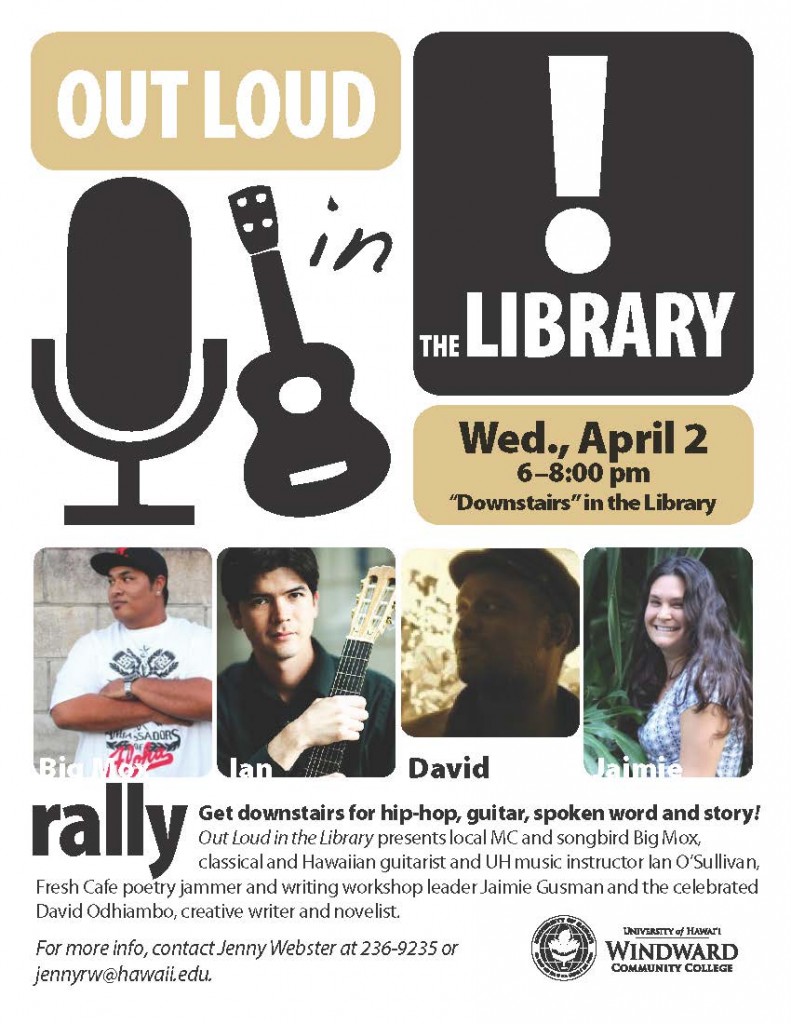 By Staff Reports
(KANE'OHE)— Out Loud in the Library! at Windward Community College presents local MC and songbird Big Mox, classical and Hawaiian guitarist and UH music instructor Ian O'Sullivan, Fresh Cafe poetry jammer and writing workshop leader Jaimie Gusman, and celebrated creative writer and novelist David Odhiambo.
Out Loud in the Library! is a literary and music event celebrating the rich intersection of words and music by local artists, and is meant to inspire and encourage students to find their own creative voice through writing, reading, poetry, music, and spoken word.
More about the featured artists:
Big Mox (Jonah Moananu) appeared on the reality show "American Idol," where he made it to Hollywood in the top 32 out of 80,000 competitors. He is known as the Island Freestyle Champion, winning MC battles both locally and on the mainland.
Proclaimed by Classical Guitar as "thoughtful" and praised by The Honolulu Advertiser as "delightful," Ian O'Sullivan is a classically trained guitarist and composer from the North Shore of Oahu. Ian currently teaches guitar at the University of Hawai'i at Mānoa and is the recipient of the Yale Elliot Fisk Award. In 2013, Ian released his first solo album "Born and Raised," featuring his original compositions.
Jaimie Gusman is a poet, PhD candidate in Creative Writing at UH Manoa, and a digital marketing newbie. In her spare time she runs Mixing Innovative Arts, a monthly reading series and summer writing workshop series in Kakaako. Jaimie has has two chapbooks, The Anyjar (Highway 101 Press, 2012) and One Petal Row (Tinfish Press, 2011), and her poems can be found in online and print journals nationally and internationally.
David Odhiambo was born in Nairobi, Kenya. He is the author of three novels: diss/ed banded nation (Polestar 1998), Kipligat's Chance (Penguin Canada, St. Martin's Press 2003), and the Reverend's Apprentice (Arsenal Pulp Press 2008). He has an MFA in Creative Writing from the University of Massachusetts, Amherst, (2004) and a PhD in English from the University of Hawaii at Manoa (2010). As an instructor in English at the University of Hawaii West Oahu, David co-founded and co-edits Papa'ele'ele, an online student magazine that features student essays, poems and short stories with sociopolitical and cultural issues relevant to the Humanities.
For more information, contact English Instructor and Out Loud in the Library! Coordinator Jenny Webster at 236-9235 or jennyrw@hawaii.edu.