By Staff Reports
(Honolulu) – The 2017 Hallowbaloo on Saturday, October 28th will be an epic celebration of music, food, art and for the first time ever a celebration of the exploding craft beer scene in Honolulu. Hallowbaloo is not just a festival – it's an experience! Historic Chinatown will transform into a gathering of eclectic performance artists, street food, burlesque and Halloween frivolity. It will feel like Oktoberfest with the largest open air craft beer event, where VIP ticket buyers will receive a free beer tasting, along with a special collector's edition Hallowbaloo beer stein and priority access to bars with the stein, including skip the line access to participating clubs.
Hallowbaloo will also feature three stages of music and entertainment, food trucks, a $1000 Costume Contest, a drag show and an appearance by Miss Vamp Hawaii. Some of the night's burlesque performers include Le Femme Rikita, Lexy Luna and Les Muses. There will also be a Jimi Hendrix tribute band performing on the main stage.
Tickets are on sale now at https://www.eventbrite.com/e/hallowbaloo-2017-music-arts-and-craft-beer-festival-hawaiis-largest-halloween-festival-tickets-38599611477?aff=erelexpmlt.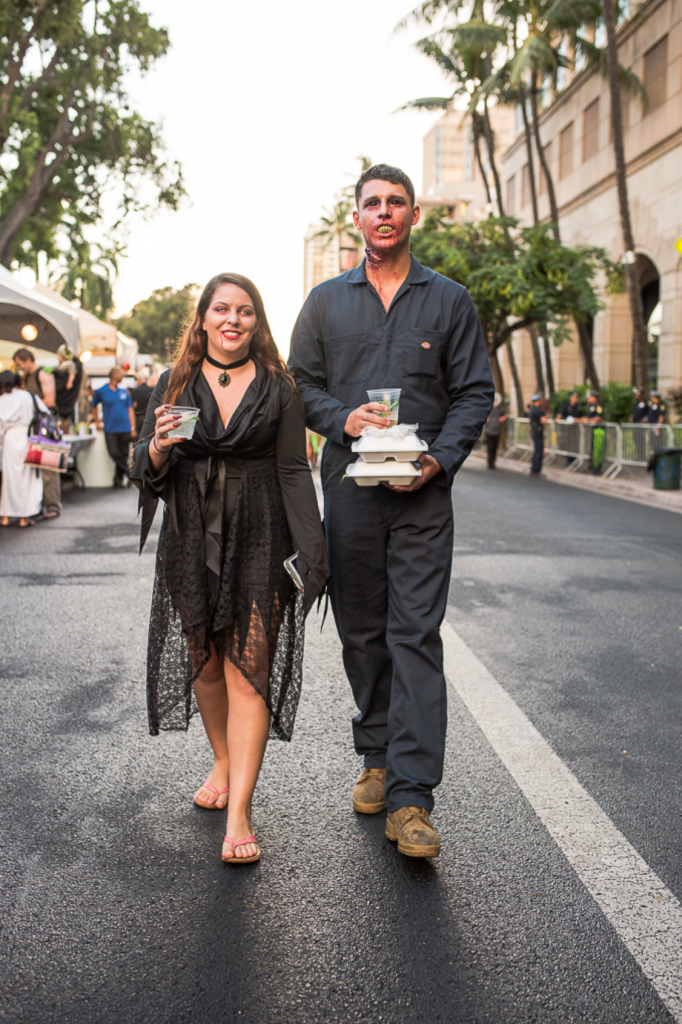 Each year, close to 10,000 costumed revelers attend this multi-stage Halloween and music extravaganza. The festivities begin at 5:00 p.m. when portions of Nu'uanu, Smith, Hotel and Pauahi Streets will close for the street festival.
Hallowbaloo continues to serve up a special Halloween experience to locals and visitors of all ages with a wide range of tastes. Over 50% of 2015 street festival attendees were 35 years old or older based on an onsite survey, and people in 50 different states and provinces purchased tickets to Hallowbaloo 2015. For families and more mellow revelers, an early jaunt through the street festival including dinner at one of its delectable pop-ups (Square Barrels, Hawaiian Fresh Farms, Istanbul Restaurant, Olay's Thai Express and more) will be hard to beat. And of course, for the many who view Hallowbaloo as the ultimate euphoric release, Club Hallowbaloo 2016 gets you access to multiple venues and a wide array of entertainment until 2:00 a.m. with the purchase of one festival wristband. Club Hallowbaloo sold out last year, so advance purchase is recommended.
One enthusiastic attendee described the 2015 street festival by saying, "For those who didn't make it to the "new" Hallowbaloo – if you're curious – this year's set-up was great! With multiple stages, all kinds of food…A most enjoyable experience in Honolulu, and as promised, great use of an attractive, historic district."
Ticket Information:
Street Festival Wristband: $15 – Provides access to the street festival and the ability to purchase drinks at the bars located on the streets.
Club Hallowbaloo Wristband: $30 – Gives access to street festival, all street festival bars and entry into all participating night clubs and bars throughout Chinatown.
VIP Club Hallowbaloo Wristband: $55 – Gives access to street festival, priority access to all street festival bars, 5 free craft beer tastings at the craft beer area, a souvenir beer stein (while supplies last), priority entry to all participating night clubs and bars in Chinatown.
Hallowbaloo 2017 is produced by Jonny Mack and Mike Galmiche with support from the Arts at Marks Garage. For more information visit www.hallowbaloo.com