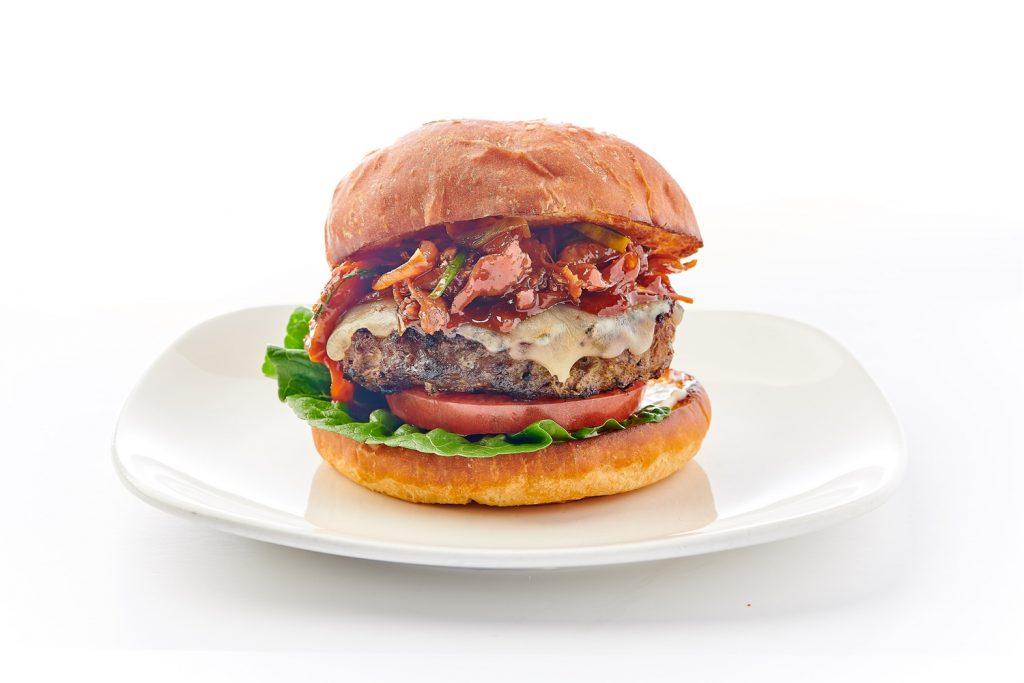 By Staff Reports
(Honolulu)– More exciting changes are unfolding at The Street Food Hall by Michael Mina with the launch of the much anticipated Burger Hale, a kicked up burger concept by award winning local chefs Michelle Karr-Ueoka and Wade Ueoka from famed MW Restaurant. Located on the ground floor of the International Market Place at 2309 Kuhio Avenue, Burger Hale takes traditional American hamburgers and imbues the flavors of the Hawaiian Islands. Embracing the ethnic flavors of Hawaii's diverse culture, Wade Ueoka of MW Restaurant pulls inspirations from Japanese sukiyaki, Korean spicy barbecue, and Southeast Asian cuisine to craft unique burgers and loco mocos
Some of the mouth-watering burgers that will be offered include the Kim Chee Burger, featuring Korean spicy pork and onions. The Pipikaula Burger is sure to be a local favorite with pickled onions and Hawaiian beef jerky. If you're feeling adventurous, you'll love the Southeast Asian burger with chili-lemongrass eggplant. An Asian-inspired burger features sukiyaki beef and onions (also known as Gyudon). All of these burgers have been translated into the ever-popular Loco Moco dish, each served over a generous portion of local fried rice and topped with a sunny-side up egg. Make it a combo with some fries with your choice of toppings and a tantalizing shave ice milkshake concocted by Michelle Karr-Ueoka for a burger experience like no other.
ABOUT AARON KAI
Hailing from Hilo, Hawaii, 25-year-old artist Aaron Kai's waves can be seen worldwide. Grooming his art through inspiration from his natural surroundings since adolescence, he took his talents over to San Francisco and is making his mark with notable projects such as Hurley's Anti-Canvas campaign, and most recently, splashing his signature waves at The Hundreds HQ in Los Angeles. He's also gained significant recognition in the world of music—most notably, HBK Gang affiliate Kool John, who's debut album $hmop City was designed by none other than Aaron. Aside from constructing one of a kind pieces, Aaron is also a co-founder of lifestyle brand Lemon HI—an expression of art through the medium of streetwear.
ABOUT THE STREET FOOD HALL, BY MICHAEL MINA
Offering a variety of welcoming dining options, the 6,900-square foot venue is designed as a culinary journey for friends and families to gather for casual meals or festive celebrations. From barbecue to beer and pizza to poke, The Street features 12 different restaurant concepts, each presenting a delicious menu driven by the chefs' passion for the foods they love to cook and eat. Providing the perfect setting for anything from a casual lunch to a late night gathering, the 280-seat space is crafted for open and communal seating.
The Street offers a bustling collection of culinary experiences curated by the James Beard award-winning chef Michael Mina, and proves itself once again as a gourmet gathering place and multi-concept collaboration between a roster of talented chefs.
The restaurant is located at 2330 Kal?kaua Ave., on the ground floor of the International Market Place. Valet, self-parking and parking validation is available. The Street will join MINA Group's contemporary American steakhouse, STRIPSTEAK Waikiki, located on the Market Place's Third Floor Grand L?nai. The Street Honolulu is the first of its kind, while a second one will open in Los Angeles' Beverly Center in 2018.