By Staff Reports
(LĪHU'E) – Ocean Safety officials announce that registration for the Keiki and Junior Lifeguard programs will begin on Friday, May 1.
The programs are free and designed to teach young people, ages 8 to 17, ocean safety and lifesaving skills. Additionally, it covers drug awareness, physical conditioning and competition skills.
The Junior Lifeguard Program will be training for its 12th consecutive year as state Junior Lifeguard champions. The program is open to youth ages 13 to 17 who can swim and run 100 yards nonstop. The Kaua'i Keiki Lifeguard Program is available to children ages 8 to 12 who can swim and run 50 yards nonstop.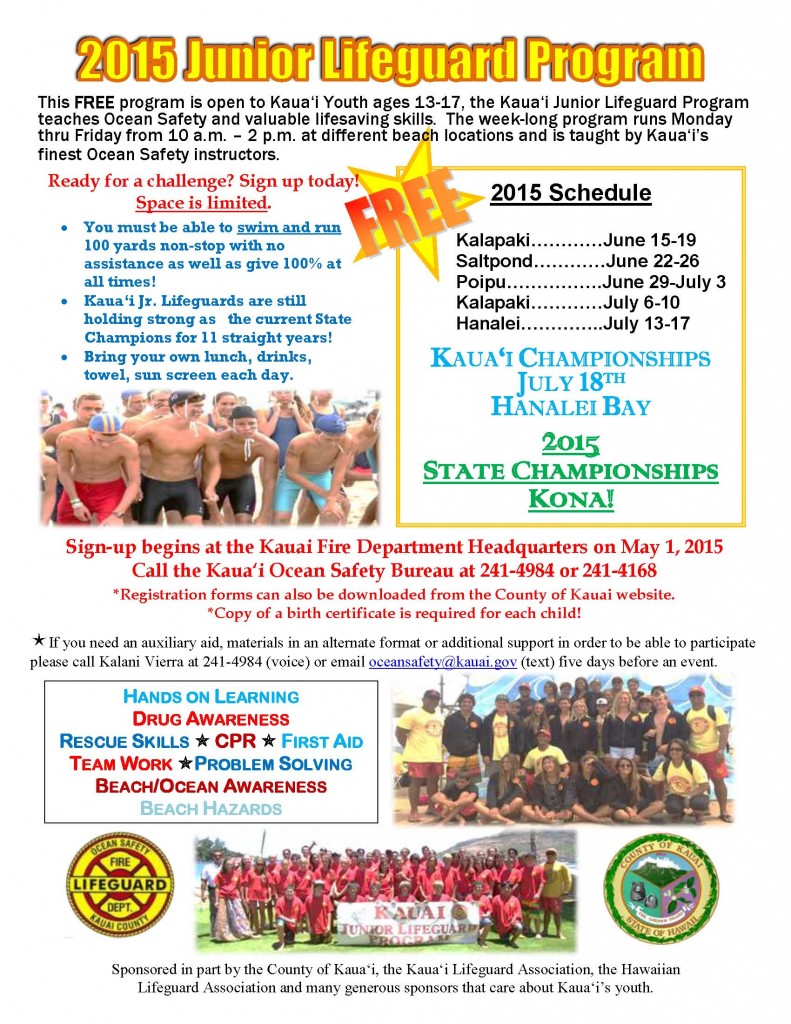 The free week-long program runs from 10 a.m. to 2 p.m. on the following dates:
·         June 8 – 12 at Hanalei Bay (Keiki program only)
·         June 15 – 19  at Kalapakī Beach
·         June 22 – 26 at Salt Pond Beach
·         June 29 – July 3 at Po'ipū Beach (Junior program only)
·         July 6 – 10 at Kalapakī Beach
·         July 13 – 17 at Hanalei Bay
Application forms can be downloaded from the county's website, www.kauai.gov, or picked up at the Fire Department headquarters located at the Līhu'e Civic Center Piikoi Building, 4444 Rice Street, Suite 315. Completed forms must be turned in to headquarters with a copy of the applicant's birth certificate.
Registration is limited to 50 participants per site.
Participants will need to bring their own lunch, sunscreen and a towel to the training daily.
Program sponsors include the County of Kaua'i, Hawaiian Lifeguard Association, Kaua'i Lifeguard Association, and many generous businesses and individuals.
For more information, or to request special assistance or an auxiliary aid, please call the Ocean Safety Bureau at 241-4984 or 241-4168.