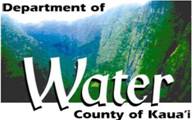 By Staff Reports
(LĪHU'E)–The Department of Water (DOW) is issuing a water conservation request for the Līhu'e and Hanamā'ulu area until further notice. Residents and businesses are asked to limit water consumption to essential uses only.
The DOW's system is experiencing low water pressure due to a recent electrical power outage caused by Monday night's storm. Water conservation will allow the water storage tank serving the Līhu'e and Hanamā'ulu area to refill to normal levels, thus providing higher water pressure.
Essential water needs includes: cooking; bathing; and toilet flushing.
Water conservation measures include: refraining from car washing; reducing outdoor irrigation; and using water wisely indoors and outdoors.
The DOW thanks Līhu'e and Hanamā'ulu residents and visitors for conserving water during this time, and for their patience while crews work to restart systems.
For more information, please call the Department of Water at 245-5455 during business hours, 7:45 a.m. to 4:30 p.m., or Police Dispatch at 241-1711 after business hours.